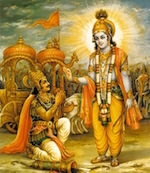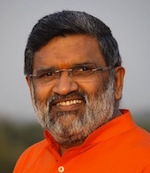 The Bhagavad-Gita is the eternal message of spiritual wisdom from ancient India. Always being revered as a true source of spiritual knowledge it reveals the purpose and goal of human existence.
Swami Nikhilananda Saraswati is the Regional Head of Chinmaya Mission Delhi. A born teacher, logical and systematic, he opens the doors for understanding the Truth, as it is, reaching seekers at their own levels. Swami Nikhilananda is also featured in Speaking Tree where you can find videos of these Bhagavadgita discourses. The discourses were given in English from March 2010 to December 2011 at Chinmaya Mission Delhi.
The purpose of this website is to make these valuable discourses available to everyone. You can listen to them direclty by using the audio player embedded in the website.
You can also listen to these discourses on your mobile through podcasts. For Android devices install AntennaPod Podcast Player or any equivalent. For iPhone, you can install Podcasts app. Then search for Bhagavadgita Nikhilananda within the app to obtain this podcast.